The following is an excerpt from Mona Khalil's Op-Ed published by PassBlue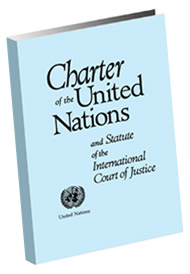 With tragic consequences around the world, all three principal organs — the Security Council, the General Assembly and the Secretary-General — have been failing to fulfill their respective mandates and in so doing have undermined the credibility and effectiveness of the UN. By failing to enforce international law, these three organs have violated it. By failing to uphold the UN Charter, they have betrayed its objects and purposes.
The founding fathers of the UN Charter were not naïve idealists but wide-eyed realists and war-hardened superpowers. They created a UN of six principal organs, each with distinct but complementary roles and functions: balancing the lowest common denominator among sovereign states, yet aspiring to meet the highest expectations of the people of the world, first and foremost to save us from the scourge of war and the mass slaughter of innocent civilians.
The authors of the Charter wrote about the Security Council's responsibility, not its power; they wrote about its primary responsibility, not its exclusive prerogative; and they wrote about its obligation to act in accordance with the purposes and principles of the UN in discharging its duties. In doing so, they adopted a Charter that balances the principles of power with the power of principles. They sought to ensure that the council can act promptly and effectively on behalf of the international community to prevent conflict and, where necessary, to maintain or restore peace and security.
Read the full article by Mona Khalil on PassBlue